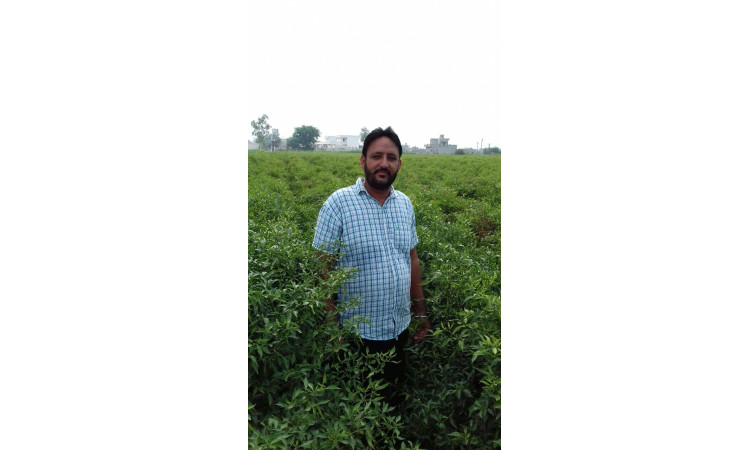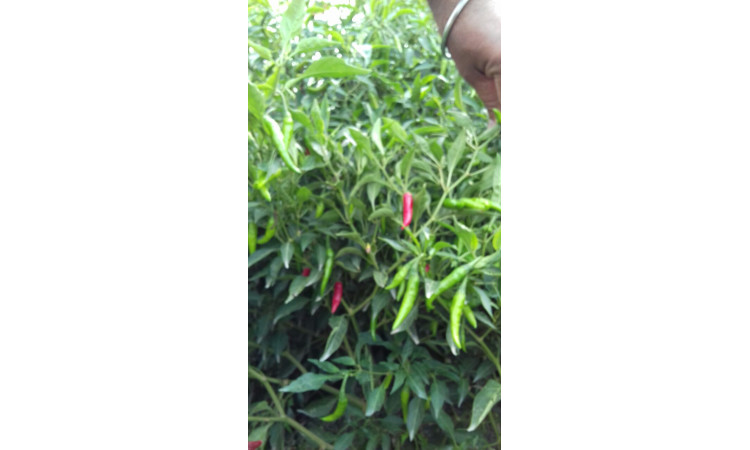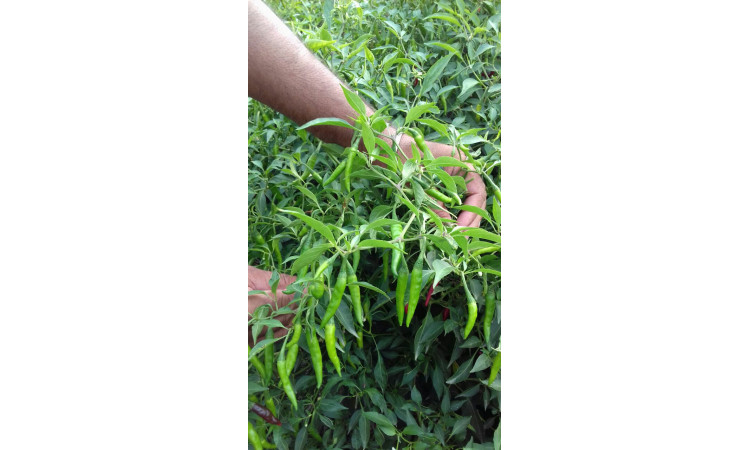 Amaninder Singh is a very enterprising farmer from village Agaul near Nabha in Punjab. He cultivates about 21 acres of land in which he grows about 4.5 acres of chillies and paddy in the remainder.
His enterprising nature led him to invest in a rice sheller along with his relatives. This business never took off and as a result he lost his share of the investment a sum of over Rs 6 lacs.
His village neighbors a much larger village called Khokh which has a number of farmers cultivating green chillies. Most farmers manage to achieve yields of 15 -17.5 tons per acre in a complete season, which fetches them much higher returns than paddy. In order to recoup his losses, Amninder decided to try his hand at chillies on a part of his land. This is when he came to know about Sequoia Bio Science's STEP SYSTEM.
He went in for an early variety called SOLDIER and transplanted his crop in end April 2016. Amninder has been amazed by the results, he has already harvested over 32 tons of chillies per acre by the end of July 2016. The yields are so high that his crew of over 20 women workers were unable to cope and some chillies ripened on the crop. The farmer reports that this was a blessing as these red chillies fetched a higher price of Rs 30/kg as against Rs 22/kg for his green chillies. He has harvested 5 tons of red chillies and over 27 tons of green chillies (a total of about 32 tons per acre) which fetched him an income of over Rs 6.90 lacs per acre. He is shortly going to go in for another round of harvest which will swell his yields and income further.
In a few short months, Amaninder's crop of chillies has earned him over Rs 31 lacs from 4.50 acres enabling him to not only recoup his business losses but acquire a brand new John Deere tractor. He is now planning to gather his relatives and neighbours and educate them about the benefits of our STEP System.
Usually, farmers plant SOLDIER, an early variety of chillies so that they can plant basmati rice in the kharif season as the chillies crop declines by end July. All of Amaninder's neighbours have already planted basmati in their chilli fields. However, Amaninder's crop is soldiering on and is yielding so heavily that he expects this continue yielding till November. The income he gains from his chillies crop would far outweigh anything he could have gained from raising basmati rice.
A major source of satisfaction has been the ability of this farmer to hire over 20 womenfolk from his village and provide them steady employment for several months. His high yields have enabled the workers to harvest 80 -85 kgs per day far more than their average of 40 -50 kgs/day from neighbouring fields and this fetches them Rs 320 -340 as daily wages, a much needed boost to poor families from his village. Some of his team manage to harvest about 100 -110 kgs per day. These workers have been continuously employed in his fields for over 3.5 months since mid April to mid August and with no let up in yields, they are likely to continue for a few more months.